Updated December 18th, 2020
PPC Campaign from Scratch: Step-by-Step Guide 2020
Everybody now loves Pay-Per-Click advertising, and this happens for a good reason. You have probably heard about those businesses that had incredible success after similar campaigns, so voices in different industries say it really is worth it. Of course, as an advertiser yourself, you know this well. But you still have to convince your clients that similar marketing efforts are truly worth it.
With a little guidance and dedication, everybody can reach impressive results with their PPC campaigns, and this is a thing you should explain to all your clients. But still, some may perceive these campaigns like a dreadful process, and cross off their list similar efforts.
Impress them with some numbers, data, and statistics and they'll be converted forever.
Why PPC advertisement?
Well, we all use the Internet extensively, and we turn all our attention to Google when we need specific information. More than this, nobody today purchases a product before doing their fair share of research. Being present online, and even better, being present at the top of Google Search results, will obviously help your business. And although SEO does matter and is a great method to make your website rank higher, it takes time to see results. Google AdWords campaigns show results faster, and for this reason, they have become an online marketing celebrity. Show your clients these numbers when they claim they don't need PPC advertising campaigns.
According to Wordstream, almost 65% of people click on these ads when searching for specific products online.
According to Google, almost 90% of the traffic driven by search ads cannot be replaced with organic clicks.
Again, according to Google, businesses make $ 2 in revenue for every $ 1 they spend on PPC campaigns.
After all, investing in PPC campaigns is a smart move, isn't it? So, go ahead and make your Google AdWords account and get to work to enjoy those numbers.
Make a Google AdWords account
Use this link to create your own Google AdWords account. The process is easy to understand and navigate. The whole process is guided, the owner of the account having to answer a series of questions, including the email address and your official website where the ads will link to.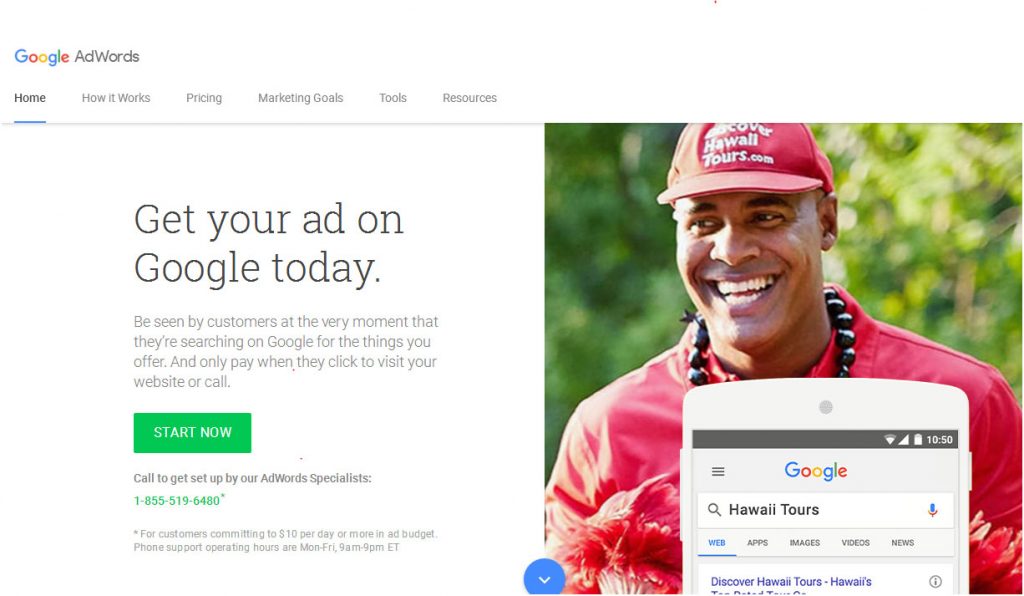 Important steps to make sure you don't skip are setting the time zone and country where you find yourself in, but also the currency.
The process itself is easy and straightforward enough for anybody to follow. The "Advanced" options will help you ensure your campaign has more success than basic campaigns. Some important extensions will make a huge difference, in the long run. For instance, you can migrate your Google AdWords campaigns to other search engines, like Bing, AOL, and Yahoo. This will help you boost your campaign's success, making your ads visible to more people. But there are many steps you have to tackle before you start your successful campaign.
Carefully choose your keywords – when people search for things in Google, they use keywords. When choosing the right keywords, your ad will appear as a possible option for your audience. If you were to sell flowers, then your keywords might include "flowers for special occasions" "flowers for weddings" "flower arrangements", and so on. If you think about choosing a single-word keyword, think again. This might turn out a bad choice, as people searching for flowers might be searching for potting flowers. And this is a product your company doesn't sell. You will end up losing some bucks off these bad choices since people won't purchase anything from you, although they have clicked your ad. There are more types of keywords you must pay attention to when crafting your Google AdWords campaigns. For instance, start researching exact match keywords, phrase match keywords, broad match, modified broad match keywords. All these keywords work differently, but when combined in a smart way, they boost your campaign's success rates.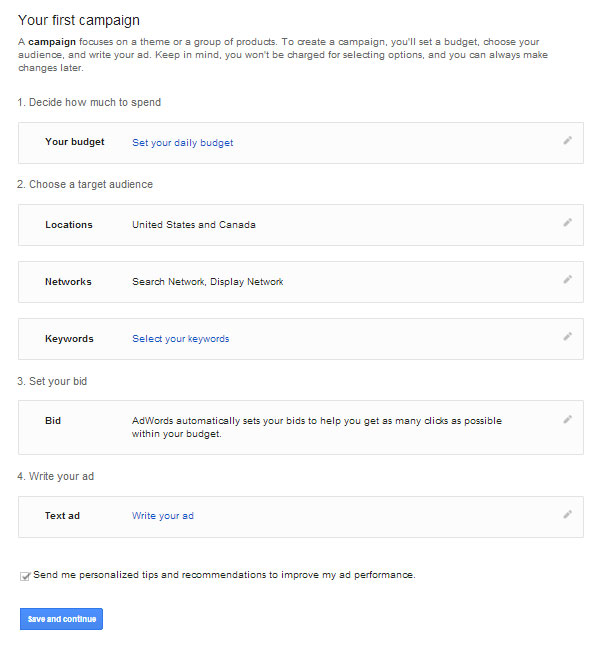 Craft your ad copies with care – PPC ad best practices recommend crafting your ad copies with extra attention to details. For instance, the ad headline has to be attention-grabbing and has to make Internet people want to read more about your products or services. Include popular search terms in your headline, and choose them wisely. You only have 25 characters to grab browsers' attention. The best method to craft a rock-solid headline for your ads is to include dynamic keywords. In terms of ad copies, you have to be as specific as possible about your products or services. You only have a small word count to achieve this, so make sure all web browsers can easily understand what your services and products are. Try to raise their curiosity. Make them want to click on your ads. If you have no idea on how to craft your ad copies, specialized tools and services might come in handy. These will help you keep your ads short, sweet, and grammatically correct. You wouldn't trust a brand with grammatical errors in their ad copies, would you? Research products like Studicus, Hemingway Editor, Best Essay.Education or Grammarly to make the most of the limited word count you have.
The landing page also matters – because impeccable ads take potential customers to your official website, and because whether they make a purchase or not, you pay for that click, the landing page must be impeccable. The landing page has to have the products or services advertised in the ad. Otherwise, you'll end up losing money. Specialists recommend using a smart trick when it comes to the landing page's display URL. Hear us out: it doesn't have to be the real landing page URL. You can always choose to modify it to match the products advertised exactly. Use a keyword that potential buyers might be searching from. It will also appear in bolded characters, making it pop up more.
The finishing touches – before starting your actual campaign, make sure to carefully review the default settings. In most cases, leaving these as they are will lead to severe losses. That being said, be more attentive when it comes to these settings.
Now, that you have a Google AdWords account, you can get down to serious business. Below we'll explain how.
Spy on your competitors
Local competitors offer you a great way to figure out what works and what doesn't in terms of Google Ad campaigns. Most probably, they have lost some money in figuring out what approach works best. And fortunately for you, you can use a similar strategy as them to make your campaigns score better.
People think that spying on the competition is unethical, but this is a common practice in the business world. As long as you don't copy their ads word for word, and you rather try to identify patterns in traffic and sales, you're not doing anything unethical, says Jessie Flinn, head of the marketing department at Is Accurate.
So, follow Jessie's advice and find out what worked and what didn't for your competition, especially if they target the same audience as you do. Look into keywords used by your competitors month after month. This is a tell-tale sign that the said keyword is a money-making one.
Long-tail keywords rule
You know what topics and keywords work best for your client's business. Now, you have to explore other options. Take a look at long-tail keywords. These are search phrases that derive from your exact keywords. Here are some impressive yet easy ways to come up with effective long-tail keywords.


Think of specific situations
Think of what questions your audience might have
Use location in your long-tail keywords
All these help you raise your AdWords' campaign success rates and your audience find the right products or services, at the right time. You want to use long-tail keywords because of three solid reasons:
Visitors already love your offer
Boost your quality score since you can use specific keywords and landing pages
Boost your profits
You can use different tools to create long-tail keywords. Below are listed only several.
Google Autosuggest. This is the simplest way to choose your long-tail keywords. Just type into Google some of the best-ranking keywords you have and use the suggestions Google offers.
Uber Suggest. Use this smart tool to build up keywords from a root word. You'll get varied suggestions to craft your long-tail keywords with success.
WordStream. Wordstream has a smart tool where you insert a keyword and you'll get expanded variations. It also tracks the search volume for each variation.
SpyFu. Again, start with a root keyword and select the Related Keywords You'll get all the related keywords used by your competition, a useful strategy as we have seen above.
Periodically update your ad copies
If you leave the same copies throughout the entire campaign, it may turn out ineffective. Try to optimize your copies periodically. This will improve the number of people landing on your ad and landing page, but also improve quality score. To master this task, use the steps below.
Pay attention to your current campaign metrics. Adapt your copies so they perform better for each keyword in your campaign.
Pay attention to conversion rates, not clicks. Some ads might have more clicks, but others with less might perform better. Pay attention to this detail, too.
Extensions and other advanced options
While this step is optional, it can make a huge difference. For instance, some extensions will make your business phone number visible, or even your location. Set these options to display different URLs to browsers. Sometimes, you have to pay for these, but this is well-invested money. However, you need a certain ad rank to use some of the most popular extensions. Below we have some of the most popular extensions.
Dayparting – because PPC campaigns cost money, you can set certain intervals of the day for your ads to run. For instance, if you want to run an ad for weekend special offers, it makes more sense to run it during the weekend.
Remarketing – you can turn on an option to show up in other businesses' ad suggestions. This is a solid extension to use when you want to target your audience while browsing other websites, reading articles, etc.
Dynamic keywords – you can customize ads in a matter of seconds with this extension. This will help you match your ads to the browser's keyword inquiry.
Use AdWords Templates to fast-track your campaign setup
Some platforms have a ton of templates you can use when tailoring your AdWords campaigns. Let's see how you can make the most of your time with similar tools.
You can save a ton of time using PPC campaign templates;
Manage with ease all the steps described above;
They are created by professionals with a lot of PPC campaign experience behind;
You can use them as starting points in your PPC campaign efforts;
You can personalize them;
You can easily set your budget;
You'll get ad headline and copy suggestions;
Have your keywords organized and ready to use.
Final Word
PPC ad campaigns are no brain surgery, but you want to pay attention to the steps above. There are tools and widgets that make the entire deal more manageable, but you can always use templates to take things up a notch. Whenever your clients tell you these campaigns are not worth the efforts, flash the numbers in the beginning, offer the best practice examples and success stories. You will change their vision in seconds. Show your clients how they can boost exposure and ROI, start with a small campaign and let them see how effective these advertising efforts are.
Apart from Google AdWords ads, you can also consider other PPC campaigns, too. Local Search Ads, Google Search Ads, Google Display Ads, Pre-Roll Ads and Remarketing or Retargeting as, these all work wonderfully to boost your clients' ROI and help them improve their marketing efforts. Facebook and Instagram Ads are also great tools to leverage the power of PPC advertising. Similar ads also allow you to personalize your ads, depending on your audience and demographics, personal interests and their location.