Updated July 21st, 2023
Web Development Vs Web Design: Which Do You Need for Business
Asking the question "development versus design" when doing business online is no longer relevant. Previously, web design was based on what a business owner wants, on his tastes and values. User experience turned the situation upside down: now all attention is on the client, his psychology, needs, and expectations.
As the user perceives the website, so it relates to the product. On the one hand, website interfaces have been simplified. On the other hand, sites are complex systems with many different elements and require even more involvement of a developer.
If the client performs targeted actions on the site, web development, web design, UI and UX design have benefited the business. But how does this happen? In this article, we'll look at the business impact of development and design, what role each of these elements plays, and why a DevOps consultant might come in handy.
How UX and UI Work Together in Web Design
Now the websites are filled with application forms, personal accounts, subscriptions, and online consultants. It is necessary to think over the user's path on the website, so he doesn't get lost and quickly find the sections required. For this, UX and UI work together.
UX and UI is the design of mobile and website user interfaces, in which both appearance and usability are essential. UX and UI have one goal – to make interaction with the product convenient, enjoyable, and memorable.
User experience is how the user interacts with the product. Whether he can purchase an item from an online store and how easy or difficult is it to do. UX designer answers a series of questions: how many steps should a person take to register on a website, or buy a product?
User interface is everything a person interacts with when using the site: from the color of the icons to the soundtrack or animation. The interface designer takes care of the appearance of the product and its interactive design.
By analogy, UI in web design is the look of an auto, and UX is the usability. Few people enjoy driving an unkempt car with many levers and buttons, most of which are entirely unnecessary.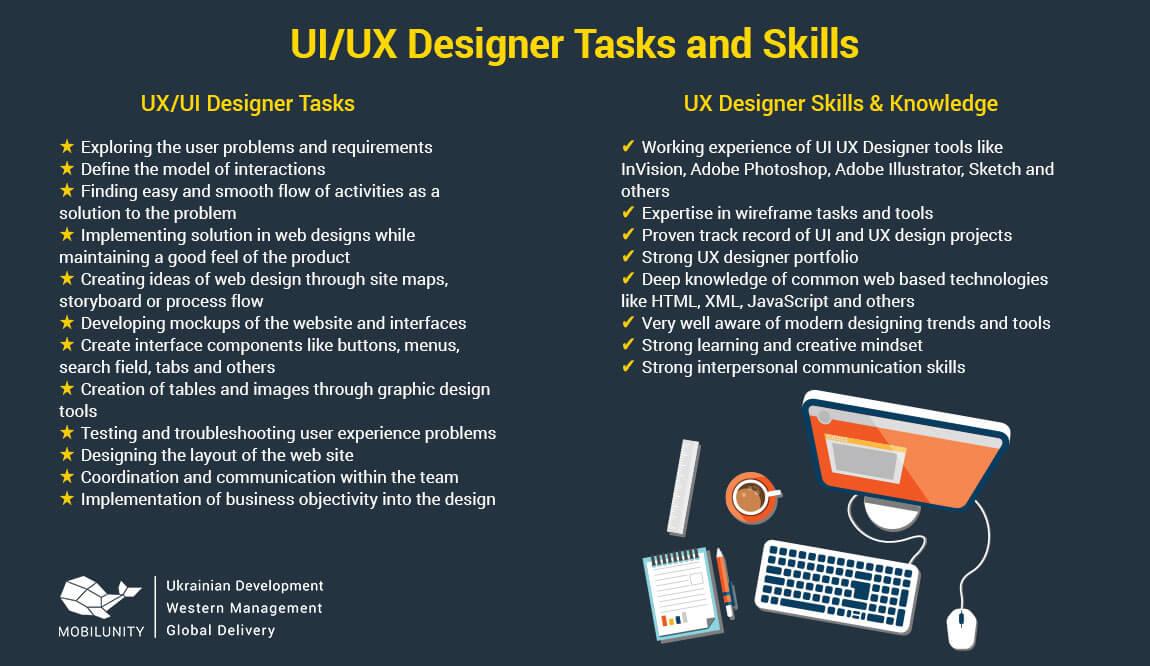 A web designer creates site layouts, including landing pages, but does not do analytical work as a UX/UI designer does. Today it is not enough to be a web designer who builds websites and fills them with information.
You need to understand who the target customer is and what his problems can be solved so that the process of using the site remains as simple and optimized as possible for him. With the development of the digital industry, this concept has been replaced by a UX / UI designer.
Good UX and UI help create a visual story that leads the user along. For example, a site's home page might have visual storytelling with an introduction, body, and conclusion.
Users can scroll to the very bottom of the site, studying the company's history or creating a product, and everything can end with some call-to-action – that is, the UX leads the user through history and leads to some final action.
Difference Between a Web Developer and a Web Designer
When creating a website, people go to the Internet with the question "designer, developer, or web designer, developer". However, the job of a web designer and a web developer should be kept separate.
As we mentioned above, the web designer and UX/UI designer are responsible for building the website's visual or aesthetic side. In contrast, the web developer is the invisible designer on the coding side (Check this informational guide about "what is a web developer" for more insights).
When you visit a website, the first thing that grabs your attention is the design of the web page interface, such as content introduction, button placement, text, color scheme, user manual content.
These are all responsibilities of a web designer. That is, it turns an idea or story into a visually appealing design. Just as an architect draws a house plan, a web designer creates a site layout for implementation.
A web developer realizes a web designer's idea by turning a layout into a working product. A web developer is engaged in creating the interface of a web page and implements interaction using HTML, CSS and JavaScript, frameworks, and other solutions. His task is to develop a front-end or back-end part of the future site.
The key difference between developers and designers is their primary goal. The task of web designers is to create a convenient, fashionable, and user-friendly appearance of the site, and web developers strive to translate all these features into reality and make them functional. It is worth noting that a DevOps engineer can help with this goal, which we will discuss below.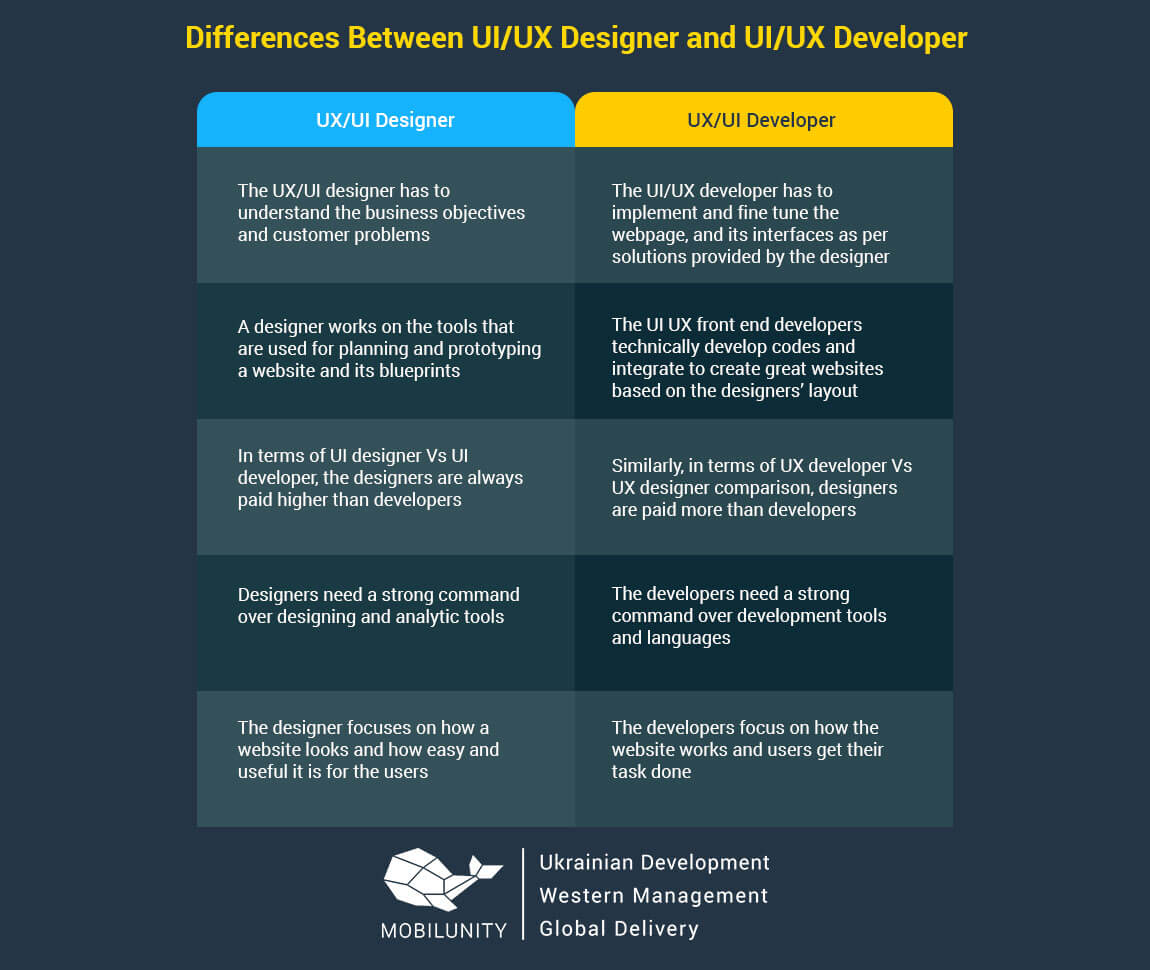 Benefits That Can Bring for a Business Each Branch
Increasing conversions and sales is the ultimate goal of engaging a UI/UX designer and web developer. However, for this to happen, the designer must create logical storytelling and develop a corporate identity for the site, and the developer must make the site code work smoothly.
What a UI/UX designer brings to a business:
Increasing sales. Conversion increases due to straightforward product design and salespoint structuring. According to

research

by J. Nielsen, if you spend 10% of your budget on UX development, you get an 83% increase in conversions.

Standing out from competitors through a corporate identity with a concept or metaphor. Memorable comes from delayed sales, and Facebook banners will be different from hundreds of other digital products with stock illustrations.

Improving customer loyalty. A professionally designed design inspires trust in the user and the brand. Satisfied loyal customers are more likely to repeat purchases, purchase additional products, renew memberships, give positive reviews, and stay with other brands.

Building a strong company brand. The site should answer the question: what does the brand say and for whom? Such positioning is possible with a preliminary analysis of the company and the display of key messages on the first page in the form of visualizations.
Airbnb entered the market when there were already strong competitors, but the creators noted a valuable advantage. They focused on customer safety and reflected this in their slogans and user experience: they added verified photos, multi-level identity verification, Superhost badges to help users find honest hosts, and a testimonial section. This is how successful UX works.
What a web developer brings to a business:
Website optimization on all devices. A web developer provides this job, so the business owner avoids creating and maintaining multiple software products.
Attracting more users. Web developers build sites with the latest tools and updates and strive to design a site for different clients. If the website runs smoothly, users will spend more time on it and recommend it to their friends.
Website automation for the unique requirements of the customer. A web developer evaluates and analyzes business strategies to create a website for a personalized business. This cannot be achieved using website builders or one-page template landing pages.
When developing websites, it is worth using DevOps methodology. It is a series of practices that should reduce development time as well as improve update processes. DevOps consultancy allows you to quickly and efficiently create an infrastructure in which your website will run automatically.
By implementing best practices, the DevOps teams will master concepts such as regular synchronization and quality coordination at all stages of development. This dramatically speeds up the work and leaves time for brainstorming and creating better work schedules. The more time a business has to innovate and improve, the more it will grow and succeed.
DevOps consultant cost for hire in the USA is $119,965, in Germany is $88,558, and in Ukraine is $17,627.
Places to Hire All of the Above
There are many dedicated websites and forums to hire a web developer and UI / UX designer. We advise proven resources, the analysis of which shows that there is a high probability of finding a qualified specialist for your business.
This is an excellent platform for getting recommendations and feedback. This can help to analyze the market and attract the best web developers on the market.
Here is Q&A section with different topics, so you can identify some experts by going through them. It is a good way to find a relevant web developer and UI/UX designer for a business.
It's necessary to set up an account there, so you can get information and details of developers that share their projects on the hosting website.
Conclusion
Web design has come a long way of development, and as a result, it was reborn into a UX/UI that focuses on users' needs and usability. At the same time, the work for web developers has not decreased.
UX/UI has introduced many standards and methodologies that can and should be adopted when working on projects. Business investment in UX and UI design and web development is a financial gain. The long-term benefits include increased revenue, lower costs, better customer retention, and higher rankings.