Google Dynamic Search Ads: The Pros, Cons & How to Use and Optimize
When you decide to promote your business on the internet, it is important to understand what your target audiences are keen on. How often do your marketers stop to figure out if potential customers are targeted your PPC campaigns goals?
How would you redirect a customer to your website? What happens when a customer performs a search on Google? Well, the search engine has a simple answer to this question: Dynamic Search Ads.
Gaining authority in this domain is not rocket science. But, you need to put together many pieces. To understand where your campaign can stand out, you need to realize the hard to reach places.
Dynamic search ads are extremely useful in capturing audiences who belong to the "did I ever think about them" category. These are unique customers, who can result in better lead generation.
Such customers are often treasured by businesses. It is mainly because finding them using traditional marketing strategies is hard. Regardless of where your business stands, you can use dynamic search ads to fill the untold and unseen gaps. In places where your marketing methods are slacking, you can use Google's Dynamic Search Ads.
With this being said, let's learn more, about what Dynamic Search Ads are. And, how to reap the best out of this technology.
What are Dynamic Search Ads?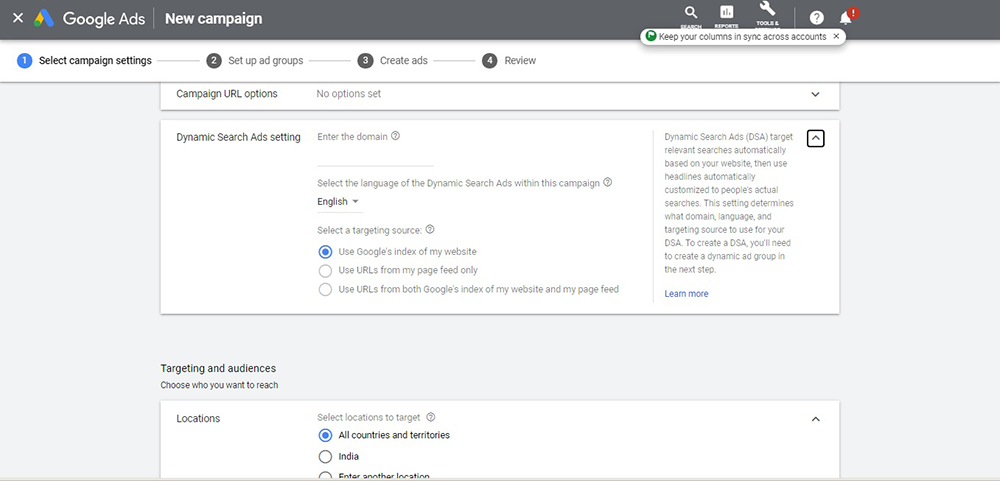 By definition, Dynamic Search Ads are advertisements. These advertisements are designed to appear based on the site's actual content. This means the ads are opposed to following pre-defined keywords. So, how is this achieved in the first place?
To begin with, you need to understand the role played by Google Crawl! Whenever Google searches a website, it pulls content across the entire site. It ensures that your entire site is navigated, and information is extracted. This is the best way of representing what the search engines do to your site.
The moment search engines like Google analyze and gather all the essential content, it would match with your keywords. In simpler terms, it would match them against your search terms. This is required for the generation of landing pages, and headlines that will match.
All of these headlines are used to build dynamic search ads. As a result, you have now increased your chances of gaining dynamic traffic. These generation ad headlines are very dynamic in the first place. And, it is Google that takes care of the entire process.
Why is this important?
First, you should know that all advertisements should be able to attract target audiences. Else, the entire purpose of your online marketing efforts goes in vain.
What happens next?
Once the dynamic search ad headlines are generated, you should spend some time and pull together the right descriptions. Well, these descriptions can be adjusted for a certain period of time. This technique is quite similar to "Pay Per Click Campaigns".
This is where your target specific keywords and use them to bid of search materials. However, the only difference is, Dynamic Search Ads are not strictly bound to your keywords. This means the equation drops the need for keywords. Instead, keywords are replaced with relevant content.
Technically, someone who is searching in Google will never see the difference. This is because the final advertisement looks the same!
Benefits of Dynamic Search Ads
It is quite evident that Dynamic Search Ads have numerous benefits for its users. This is one of the finest ways of improving your marketing methods. Few notable benefits of this service are:
Save more time: No longer are you pushed to work with mapping keywords, ad texts, or bids for each and every product in your site. Dynamic Search Ads prove to be extremely useful in launching your products into markets at a faster pace. When compared to its alternatives, this technique is several times more effective and reliable.
Relevance: The moment customers choose to search from your website for relevant products, and services – Google will start to generate advertisements in a dynamic fashion. It begins by building ads that have crisp, and clean headlines. These are picked directly from your website. This ensures that the headlines are both relevant, and perfect!
Control: Dynamic Search Ads show advertisements based on the entire content on your website. This means, your ads wouldn't have out-of-stock items.
Traffic: In the long run, Dynamic Search Ads can be used to gain additional sales and traffic. This means you are reaching out to opportunities your keywords missed.
URL based information: Finally, you don't have to display the URL of your website along with the advertisements. Google takes the trouble of finding this information and showing it with your ad.
When not to use Dynamic Search Ads
Now, Dynamic Search Ads cannot be used everywhere. There are few places where these features need to be avoided. First of all, does your website keep changing on a daily basis? For instance, do you have numerous deals and discounts on your page? And, do these deals get refreshed regularly? If yes, Dynamic Search Ads are not meant for you.
Moving on, these ads don't work well with certain industries like gambling and pharmaceutical. The ads only work with pages that are optimized. The technology behind Dynamic Search Ads should be able to identify the terms and themes on the website.
This clearly means websites that are not formatted in the right way will not make the most from Dynamic Search Ads.
Finally, your website should always begin with http://. If it supports only https://, this functionality will not work for you. In a flash, you will see the message "Destination not working".
How Do You Pay for Dynamic Search Ads?
Dynamic Search Ads are designed with a bidding system. The strategy is similar to text advertisements. Dynamic Search Ads work on a "Cost Per Click" mechanism. The cost is decided based on the number of clicks your ad received. The "number of clicks" is then multiplied with the "maximum cost per click limit" assigned by you. All the bids are carefully applied to an auto-target margin. Of course, you can replace the auto-target option with manual bidding too!
Manual bidding gives clients a little more hands-on experience. You will find this option under the "Advanced Options" tab, in the "Additional Settings" page.
In addition to these bids, you will come across "Smart Bidding". This is a simple variation of automated bidding. It makes use of machine learning to increase the chances of conversion with each auction. Indeed, this is a technique for optimization. In the long run, smart bidding helps in boosting backend performance. It uses three important technologies for this:
Contextual Signals.
Machine Learning.
Flexible Performance Controlling.
Transparent Performance Reports.
When compared to manual bidding, the smart bids are several times more effective. Based on your accomplishments, you need to choose an appropriate bidding methodology.
How are DSA campaigns different than traditional campaigns?
Many times, businesses are curious to know how Dynamic Search Ad Campaigns are different from the traditional ones. Well, you have two key differences.
One, the keywords used in your regular campaigns and the Dynamic Search Ads are completely different. The Advertisement Headlines used as a part of your Dynamic Search Ads are built by Google. It happens dynamically. The information displayed is extracted from the web page.
Yet, advertisers are expected to populate the description section. Here, a few pieces of information need to be adjusted. Just imagine the idea of building ads based on the actual product! This is bound to be the best practice in town!
Two, both these campaigns differ in bidding. Dynamic Search Ads doesn't apply the bid to separate keywords like Text-Based campaigns. Instead, the bidding happens at an auto-target level. Auto targets can differ from one page to another. This means you assign bids to each auto-target, and then the results are displayed based on the rank of your advertisement.
How to create Dynamic Search campaigns?
Now, are you prepared to create your Dynamic Search Ads?
How to setup a Campaign
Sign in to your Google Ads account.
From the page menu on the left, click Campaigns.
Click the plus button , then select New campaign.
Select one or more goals for your campaign. Or, click Create a campaign without a goal to continue without goals.

Optional: Under "Select the results you want to get from this campaign," select the check box next to the actions you want customers to take after seeing your ad (for example, website visits, phone calls, or app downloads). Enter relevant details.

Select Search as your campaign type.
Enter website & phone number
Click Continue.
Select Search Network & Campaign Name – Uncheck Display
At the top of the screen under "General Settings," expand Show more settings, and then click Dynamic Search Ad.
Enter your website domain and select your website language.
Enter the locations you want to target, languages you want to use, and your budget.
Under "Bidding," choose an automated bid strategy if you want Google to optimize your bids. We recommend the target CPA or enhanced CPC options.
Enter your bid limit (optional) and budget.
Click Save and Continue to continue onto the next stage—creating a dynamic ad group and targets.
How to create a Dynamic ad group
For the Ad group type, select the Dynamic option (default).
Name your dynamic ad group.
Decide how you'd like to target your ads. If you're unfamiliar with dynamic ad targets, we strongly recommend reading About targets for Dynamic Search Ads. We recommend starting with:

Landing pages from your standard ad groups category: All webpages that you're currently running search ads against, across all of your accounts. This targeting option makes it easy to increase traffic on the webpages you're already using as landing pages in existing ad groups and campaigns. We recommend this target for users that are new to Dynamic Search Ads.
Other categories: Sets of landing pages organized by theme. You decide which sets of pages to target, how to group similar pages, and the level of granularity. If your site is completely new to Dynamic Search Ads it may take up to 24 hours for categories to show.
URL_Equals: You can target specific URLs. This is a simple way to target individual pages. However, it can limit your reach if you want to get incremental traffic.

If you're not using automated bidding, adjust your bid based on the value of each specific target to your business. Bid adjustments can give you more control over when and where your ad is shown. You can set these adjustments to increase or decrease your dynamic ad target bids by a percentage. Learn About bid adjustments.
Click Save and continue.
How to create your ads
You can have more than one Dynamic Search Ad, which means you can collect data on which ad is most effective. Here's how to add Dynamic Search Ads to a Dynamic ad group:
Click New ad.
Select Dynamic Search Ad.
Your Dynamic Search Ad headline, final URL, and display URL will be dynamically generated, so just enter your description text.
Click Save and Continue.
How to optimize DSA campaigns?
Just like every other Google Ad Campaign, you can choose to optimize Dynamic Search Ads. To begin with optimization, you need to have a solid campaign structure. Since this technology makes use of auto-targets, you have structured your website with specific ad groups. The group must uniquely identify a product. Granular structuring offers better levels of control management.
Next, you need to ensure that the keywords are mapped appropriately. Dynamic Search Ads are designed to expand the coverage of your queries and to boost the overall ad experience. It is crucial to make use of negative keywords. Before you finish the campaign setup, you need a "Catch-All Campaign". This campaign must target on all webpages.
Sometimes, you need to invest time and mine for negative keywords. This is a much overlook strategy. The need for negative keywords is to improve user experience. Look for keywords with more volume, and that can convert at a better rate. In fact, you can use these queries for building the keywords of your actual text campaigns.
Finally, you have to highlight your offers and promos. Dynamic Search Ads can reduce the burden of building headlines. Now, you can spend all your time showcasing promos, and "elements" that would highlight your business. For example, do you offer free shipping? If yes, let the advertisement speak about it!
Conclusion
Whether you are building your Ads campaign for the first time, or if you are filling gaps in your existing structure – Dynamic Search Ads are worth your time. This is one of the most practical ways of directing more traffic to your website and improving business opportunities.