Updated December 18th, 2020
PPC Copywriting Best Practices for Extra Effective Text Ads
if you need to write a PPC ad copy for your Google Ads campaign, you can choose from among thousands of different strategies and methods. Google Ads introduce new updates all the time so marketers and copywriters have to adapt to the new standards.
Sometimes, it's hard to keep up with all the latest trends. On the one hand, it's important to know the trends in this area and to tailor your copy to the necessary requirements. On the other hand, you should keep in mind that some proven strategies can always demonstrate good results.
Copywriters have been relying on some methods of writing, research, and optimization for years because these methods have proven to be very effective for PPC text ads. At the same time, they've always experimented and tried various creative approaches.
To write an outstanding PPC copy with impressive click-through rates, you should combine different methods and test them. Obviously, you should also be familiar with the standards of PPC advertising so let's consider the PPC ad format in more detail.
PPC Ad Format
Before you start to test different approaches and sharpen your copywriting skills, you should familiarize yourself with all the specifics of the Google Ads PPC text ad format. It's impossible to create an effective text ad without understanding what things attract your audience's attention.
You should know what elements of your ads will drive most conversions. This way, you'll be able to not only focus on the right things but also to test your copy properly.
The most noticeable parts of your ads are your first, second, and third headlines. These three elements make up most of your ad. Users can see these headlines as a highlighted blue text section above your target URL.

The three headlines are the most important parts of Google advertisements because they to a large extent determine whether or not users will want to click on them.
The target URL follows the headlines. There is also a description below the URL. The description contains the ad copy itself. This is a place where you can get creative and describe your offer in more detail.
When it comes to writing a description, you no longer need to include as many keywords as possible within the character limit.
How to Write a PPC Ad Copy
Once you've familiarized yourself with the PPC ad format, you need to learn how to write an effective AdWords ad. Many writers think that the only thing they need to write a compelling copy is to wait for inspiration and then to unleash their creativity.
However, the reality of copywriting is a little more complicated. First of all, you should do competitive research. Countless effective marketing practices are based on competitive research because it enables businesses to understand what they should do to stand out.
The easiest way to evaluate your competition is to open an incognito tab in your browser and to search for your top keywords. The chances are that you will see many ads from brands that you've never seen before.
If their ads are displayed as results for your most searched keywords, it means that you need to take action. First, you should determine what tactics your competitors use to keep their ads perfectly relevant.
You should also determine how they differentiate their brands from others and what they do to increase their CTR.
Don't be afraid to learn from your competitors and to use similar approaches. However, the main purpose of competitive research is to understand how you can stand out.
Your ads should be unique and authentic. This way, they will be more likely to attract your target audience's attention so the audience will be more likely to choose your brand.
Ad Extensions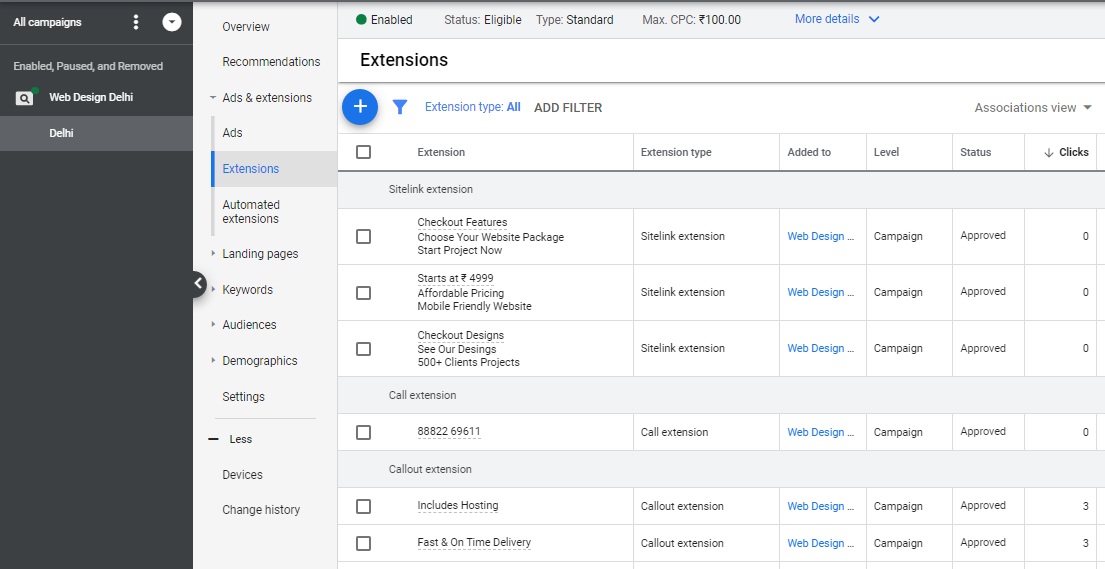 Companies that run PPC campaigns can use Ad Extensions as a powerful tool that helps them achieve several goals. This way, they can increase not only their clicks but also their overall engagement rates, while also providing the audience with more information.
The best thing about Ad Extensions is that you can use them in different ways, depending on your objectives.
They can help you make upsells, provide the pricing information for users who are interested in purchasing your products, or display phone numbers for quick calls and locations so that location-based businesses can segment their traffic more effectively.
No matter what your objectives are, Ad Extensions will give you more opportunities to achieve them. You can use them to write more informative and effective ads that provide more value for the audience.
Traffic Temperature and CTAs
Aligning your CTAs with the conversion temperature of your traffic is a great strategy that is often overlooked by PPC marketers. Not everyone who sees your ads is equally interested in becoming your customer.
"People from your audience may be colder or hotter, depending on their conversion intent," explains Annie Butler, a digital marketer at an essay writing service reviews website Best Writers Online. Using strong, direct CTAs is a great practice. However, you should take into account your traffic temperature.
We recommend that you use different keywords and CTAs depending on the conversion temperature of a particular segment of your audience.
For instance, if your ad is intended for people who have never heard of your brand before, you can use keywords from the top of the conversion funnel. At the same time, in this case, you don't need to use straightforward CTAs from the bottom of the funnel because they can scare your potential customers who are not warm enough.
Top 9 Practical Tips for PPC Text Ads
Use creative and strong CTAs

If you simply write "call now," this CTA likely won't perform well because it doesn't convey any sense of urgency. We recommend that you never use such clichés because your audience is already immune to such weak CTAs. Use strong verbs, like "join," "get," or "save" instead.

Know what your target audience wants

Many businesses focus their ads on themselves, which is logical because they want to present their brands as authoritative and trustworthy. However, your customers need you not because they're interested in your business but because they want something. The best advertising strategy is to prove that you understand the needs of your audience. Think of your potential customers' problems and the way you can solve them.

Include numbers

Numbers immediately grab attention so they can also increase your CTR. Numbers provide your audience with something specific, not just words. You can include numbers in your ads by adding a price or by providing some statistics.For example, you can write about how many people have already appreciated your products or services. Keep in mind that people are more likely to trust exact numbers than round numbers.

Use emotional triggers

The worst thing you can do as a marketer is to create a boring ad. You may want to avoid controversial topics and to make an ad that everyone would like, but you should make sure that it won't be boring. We recommend that you use some emotional words that will make your target audience feel something."Analyze the problem that your business solves and think of what emotions are associated with this problem," suggests Irene Jennings, a digital marketer at a paper writing service reviews website Online Writers Rating. You can also use your audience's fear of missing out, anger, and anxiety.

Address objections

Usually, you have to convince people so that they will want to make a purchase. A great way to do it is to address some common objections to your selling points and to discard them with some facts. Leave your audience with no excuses for not making a purchase.

Emphasize your location

Emphasizing your location is one of the ad copy best practices. People usually trust local businesses more than giant corporations. If you emphasize your location, your business will look more approachable.  Even if you have dozens of locations, you can always segment your audience and choose a more personal approach.

Use all characters you have

Google Ads enables you to write two headlines that should be 30 characters long and an 80-character long description. We recommend that you use all characters you have to make your ads as effective as possible.Add some useful information and links. You can also use custom URLs to make your links shorter and self-explanatory.

Focus on what makes you unique

Some of the best text ads examples have one thing in common — they emphasize features that make a brand stand out. Of course, you don't have enough space to address all the unique features of your brand in detail. However, you can and you should write about things that you do better than competitors, your awards, special offers, and your distinctive brand values.

Test your PPC ads


The best way to improve your ads is to test them regularly. You should collect data so that you can identify patterns in it and adjust your marketing strategy accordingly.You may experiment with the location of your CTA, try different CTAs, URLs, and mention different features of your product or service.
Final Thoughts
Although it may be difficult to keep up with the latest trends in advertising, creating an effective copy is a possible task.
We recommend that you follow our simple tips so that you can focus on the right things when planning your PPC strategy. Practice and test your copy. This way, you'll be able to write ads quicker, and they will demonstrate better results.